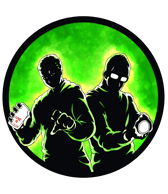 "HauntingLive is a paranormal podcast with LIVE investigations and interviews with paranormal guests"
HauntingLive Podcast ParaDoc Series is an in-depth look at the more creepy side of the paranormal. We talk to experts, filmmakers, authors, experiencers, and celebrities on their topics of research.
The paranormal covers a wide range of topics and with ParaDoc Series we want to bring to you their stories and experiences in what area they film, study or write about.
Topics that are covered on our ParaDoc Series is open to anything paranormal related, however if you're like us, WE LOVE CREEPY, so we discuss anything with a creepy vibe in the paranormal like famous ghost stories people experience, current paranormal celebrities, experts in the fields of research into subjects like Sasquatch & UFO's.


NEW PARADOC SERIES WITH IN-DEPTH PARANORMAL INTERVIEWS!
T+E HISTORY'S MOST HAUNTED CAST SERIES PREMIER
Where do we get our content?
HauntingLive Podcast ParaDoc Series is widely connected with many different networking sources that provides us with our content.
We are networked professionally with TV networks that carry some of your favourite paranormal shows and cast that we here at HauntingLive Podcast ParaDoc Series get to talk to. When new series starts or new documentaries launch we will bring you all the best right from the cast or producers of the show.
One main source for content is being associated with a network known in Canada for its paranormal content, T+E channel. Being connected with T+E we've been able to bring you most of our most watched content that has been on their network.
We are also affiliated with other networks known for their paranormal content such as Discovery+ and History channel.
CONNECTING WITH NETWORKS TO BRING YOU PARANORMAL CONTENT
RECENT PARADOC SERIES VIDEOS